Speaking to CarsGuide today, Toyota Australia has confirmed that our market will receive both the petrol-powered and hybridised versions of the new-generation Yaris, and that the city hatch would arrive within the first half of 2020.
The 2020 Yaris will be available with a choice of two ground-breaking drivetrains for Toyota. The first, a naturally aspirated 1.5-litre three-cylinder engine, is claimed to have a 40 per cent thermal efficiency and will utilise Atkinson-cycle technology which also appears in the brand's current 2.0- and 2.5-litre engines.
The second, a new version of Toyota's hybrid technology spearheaded by the Prius, will feature entirely new lithium-ion batteries to replace the nickel hydride ones that appear in the rest of Toyota's range. The new batteries will result in a weight reduction of 27 per cent over their nickel hydride equivalents.
The confirmation of a hybrid drivetrain for the next-generation Yaris represents a significant shift for the city-car segment in Australia, which is notorious for outdated and thirsty drivetrains in the most popular nameplates.
Although, whether the new-generation Yaris can compete on price with its budget competitors remains to be seen.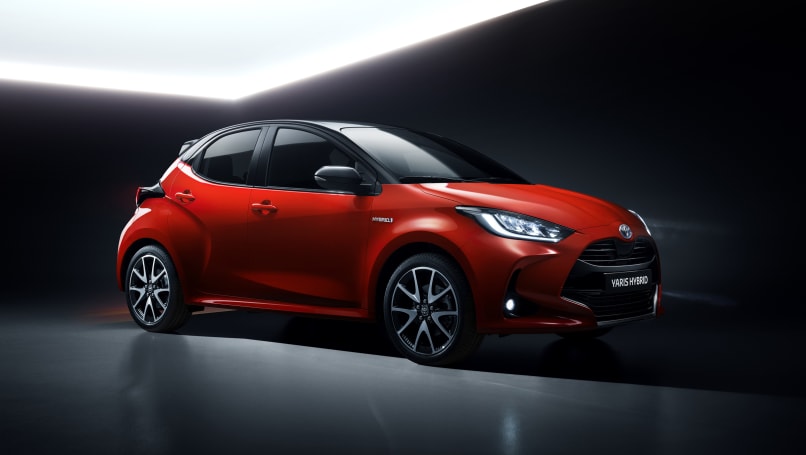 The hybrid Yaris is a move forward for small cars in Australia, but may not be able to compete on price.
The just-teased 2020 Honda Jazz is said to be hybrid-only for Europe, although what kind of non-hybrid version (if any) will be made available is yet to be announced.
Toyota's full active safety feature suite will be available on every Yaris.
While the presence of the hybrid Yaris puts into question the existence of the similarly sized Prius C, Toyota Australia had "nothing to announce" on the topic of the latter's potential discontinuation.
But the brand's representatives told us that if a hot Yaris arrives – as it almost certainly will under the brand's Gazoo Racing moniker – the Australian division would well and truly be putting its hand up for it.
"There's room for it in our line-up," the brand's representatives said when quizzed on a potential GR version.
Toyota says it definitely has room if a successor to the Yaris GRMN becomes available.
This would put Toyota's fully fledged Yaris range in stark contrast to the 2020 Ford Fiesta – which will land exclusively in the ST go-fast trim – and Hyundai, which says it only has room for a hot i20.
The current-generation Yaris received a supercharged GRMN hot hatch variant exclusively in Europe.
Expect to find out further details on the Yaris and Honda Jazz when they are both officially revealed at the 2019 Tokyo motor show.
Article Source: Cars Guide Magazine
October 18, 2019 9:01 am