While it might feel like the current crisis is not much good for anything, or anyone, it is actually a great time to buy a new car, particularly if you're the kind of person who likes to get a bargain.
And for once, you can actually thank the coronavirus lockdown for doing you a favour, because that's what has made car companies, dealerships and salespeople absolutely desperate to do you a deal – like $81-a-week-gets-you-a-new-car kind of deal.
Like many industries, the car business has been doing it tough lately, with sales officially down by 18 per cent year-on-year in March, which sounds like a lot but is actually nowhere near as terrible as the figure for April – when the lockdown really kicked in – will be, and no car company spokesperson wants to go on record about how awful their sales have been in the past few weeks.
This means that if they can just get you to come into a showroom, they are going to be so keen to sell you a car that they'd probably hug and kiss you on sight – if that was appropriate.
Part of the problem is that people feel like they're not allowed to leave their houses for something as seemingly frivolous – or at least mildly enjoyable – as car shopping, but the fact is, as the motoring industry body the FCAI has been keen to point out, motor vehicles are an essential item.
Another issue is that a lot of people probably don't realise that dealerships are actually open.
"Since the onset of the pandemic, personal transport has increased in importance as it provides a secure, socially distanced manner of commuting to important engagements, such as healthcare appointments, shopping for essential items, or travelling to work," the FCAI explained.
And to ensure that people's vehicles are in good running order, governments have allowed dealerships to stay open and offer essential maintenance services, and because showrooms are attached to those businesses, they are open, too.
"This allows customers to safely replace their current vehicle or motorcycle should the need arise," the FCAI added.
Nissan bargains
There are a wide variety of retail and finance options available to customers to meet their needs across the Nissan range.
Nissan Australia's managing director, Stephen Lester, tells us his dealers are not only open but that they "would be delighted to serve customers".
"Our dealers have quickly adapted their operations to include social distancing and other government directives to help prevent the spread of COVID-19," he added.
"With the traditional peak buying period – end of financial year – approaching, our dealers are prepared and ready to sell, although in a slightly different way this year, based on the current circumstances.
"In addition to great retail offers available now, there are a wide variety of retail and finance options available to customers to meet their needs across the Nissan range, such as the Nissan Future Value program, with weekly payments starting at $81 for a Nissan Qashqai."
Mazda wants you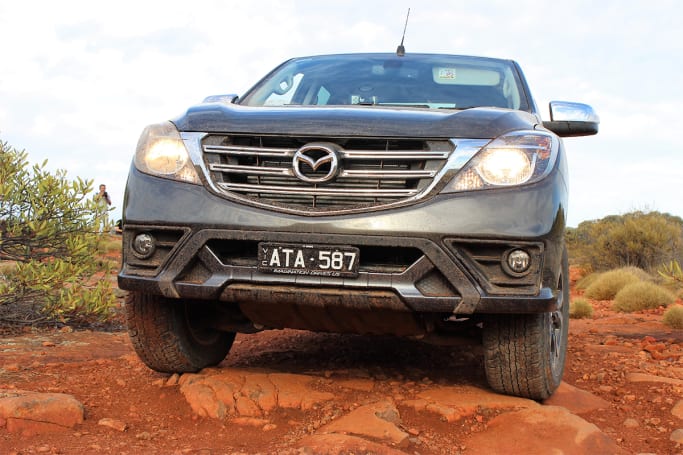 Mazda is doing run-out deals on its BT-50 ute.
The folks at Mazda are equally eager to see buyers anywhere near their cars, and spokesman Mark Flintoft was keen to point out that the federal government's extension of the instant tax write-off for small businesses – which allows purchases of cars costing up to $150,000 – provides another reason to get shopping.
With those ABN-holding buyers in mind, Mazda is doing run-out deals on its BT-50 ute, which is sure to be replaced by a new model in the near future.
"While Mazda is committed to providing great customer value and service satisfaction all year round, EOFY is always a good time to buy and customers will likely be able to find some enticing deals, particularly on BT-50 ute for ABN holders, with manual models starting from $29,990 driveaway for a 4×2 XT single-cab chassis," Mr Flintoft said.
"Most people are doing the right thing and staying at home, but we know life continues and for many, that includes a new vehicle by necessity. In support of those people, our dealers are exercising social distancing and zero-contact work practices, so if customers need to visit dealerships, they can.
"Alternatively, they can contact dealers directly and do their negotiating online or over the phone via our 'find your dealer' part of the Mazda website."
Deals all day, every day, on Hyundai
Hyundai is now offering a seven-year warranty on all i30 and Elantra models.
While car companies across the board are doing it tough and thus willing to offer incredible value to make sales, they do also report that the 'conversion rate' is quite high at present, meaning that people who actually turn up at a dealer tend to leave with a car. "There are fewer tyre-kickers and more buyers," as one industry insider put it.
Another major manufacturer, Hyundai, is also offering some tempting deals as it builds towards what will need to be a huge EOFY period. It's now offering a seven-year warranty on all i30 and Elantra models, with driveway pricing starting at $20,990 for the i30 Go manual and the same price for the equivalent Elantra.
Hyundai will also give you money to take some of its vehicles, with $1000 cash back on the Veloster range and between $250 and $500 on various SUV models. You can now get a Hyundai Venue from as little as $22,490 driveway, a Kona from $25,990 driveway, a Tucson from as little as $28,990 driveway or a Santa Fe from $44,490.
Keep in mind, of course, that all the offers being touted by car companies are merely a starting point, a tempter to get you interested, but once you're in a showroom with a sales person who's desperate to get somewhere near their usual monthly sales total, you should be able to negotiate something even better. Happy shopping.
Article Source: Cars Guide Magazine
April 28, 2020 9:01 am