Volkswagen has revealed its first high-performance plug-in hybrid (PHEV) model, the Touareg R large SUV, but potential Australian buyers shouldn't get their hopes up.
A Volkswagen Australia spokesperson told CarsGuide the company won't get access to the Touareg R "in the immediate term" as its parent's initial PHEV rollout prioritises markets that adhere to the more stringent Euro6 emissions standard.
"Vehicles of this sophistication are prioritised for Euro6 and advanced markets," they said. "Unfortunately, the Australian government has postponed Euro6 until 2027.
"There's also the complications of third-world petrol quality and retrograde NEDC and ADR regulations. Plus, European importers have to absorb an outdated tariff and, in this case, the luxury-car tax in pricing."
Sharing its powertrain with the mechanically related Porsche Cayenne E-Hybrid, the all-wheel-drive Touareg R mates a 250kW 3.0-litre turbo-petrol V6 engine with a 100kW electric motor for a peak combined power output of 340kW. Maximum system torque is 700Nm.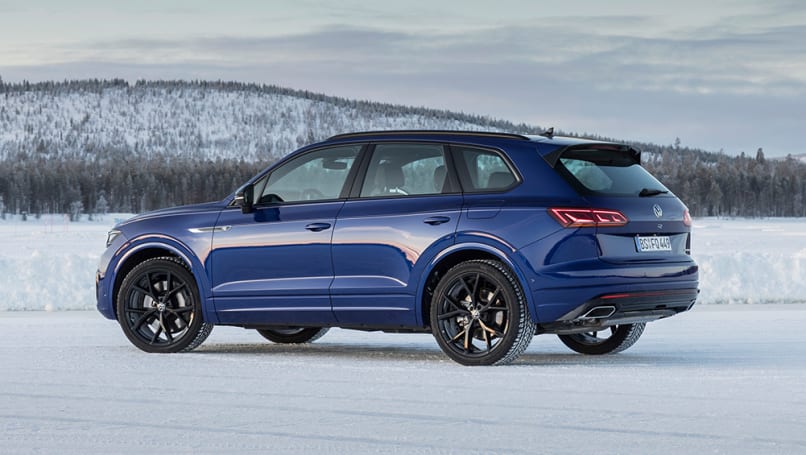 The Touareg R comes with the R-Line and Black Style packages as standard.
While Volkswagen has confirmed the Touareg R has a 14.1kWh lithium-ion battery located underneath its boot floor, it's yet to reveal the electric-only driving range it provides and its charging times.
Claimed fuel consumption on the combined cycle test also remains a mystery for now.
E-Mode and Hybrid drive modes are unique to the R, although it does share its eight-speed torque-converter automatic transmission with the regular Touareg variants.
Top speed is electronically limited to 250km/h with both power sources active. Going electric only will see terminal velocity 'only' reach 140km/h.
A redesigned steering wheel headlines the Touareg R's cabin.
Maximum braked towing capacity is 3500kg, even when driving using electric power only. The Touareg R also claimed to be the only PHEV in the world to come with trailer assist.
Styling-wise, the Touareg R can be easily identified by way of its standard R-Line and Black Style packages as well as its 20-inch Braga alloy wheels, wheelarch extensions, trapezoidal exhaust tailpipes, darkened LED tail-light clusters 'R' badging.
Inside, the differences are more subtle, although trainspotters will notice the redesigned steering wheel and Crystal Grey stitching.
The Touareg R will go on sale in Europe in the second half of this year.
Article Source: Cars Guide Magazine
February 25, 2020 9:01 am