The Mazda2 city car and Mazda6 mid-sizer will survive into 2021 and beyond despite competing in rapidly shrinking market segments according to the Japanese brand.
Speaking to CarsGuide at the launch of the Mazda3 SkyActiv-X, Mazda Australia marketing boss Alastair Doak said neither car is looking at facing the axe in the coming years.
When asked if the Mazda2 will have a place past 2021, Mr Doak said: "Our assumption is that it will continue. We've re-positioned it, and it's actually selling above our projection numbers."
"We adjusted early, added equipment, made price adjustments," he said. "There's still decent demand. It's easy to maintain a presence from a position of strength."
The city-car segment, in which the Mazda2 competes, is rapidly shrinking, with popular rivals like the Honda Jazz and City, as well as the Hyundai Accent and Renault Clio recently being axed from Australian shores.
Instead of dropping the Mazda2, the brand has instead decided to move the small car upmarket, with a higher-end look and equipment offering. As such, the current entry-level Mazda2 G15 Pure with a manual transmission (the brand's cheapest car) now comes in at $20,990 before on-road costs, a whopping $6000 more than the equivalent base car of 2019.
Despite moving the Mazda2 upmarket, the brand said it is selling above its own projected numbers.
To the end of June this year, Mazda has managed to find 1412 homes for the 2, down a massive 72.8 per cent from the same six-month period in 2019. It still faces stiff competition from the sharply priced Suzuki Swift and emerging MG3 competitor, which is outselling it at a ratio of more than 2:1.
We also asked if the brand envisions a place for the Mazda6 – another car in a very tough segment largely dominated by the Toyota Camry, which is offered with a hybrid engine.
"Absolutely," Mr Doak said. "The Mazda6 still has a loyal following in market. I think the wagon will survive too, it's a clear point of difference in that segment."
Mazda is not worried about the Mazda6's market position.
The Mazda6 has managed to find 824 homes this year against the Toyota Camry's 6518, however its 8.7 per cent market share still ranks second in the declining mid-size sedan/wagon marketplace.
Generally, Mazda's push to offer "a cut above" products, in Mr Doak's words, has so far seemed to result in declining sales, with the brand almost 30 per cent down year-to-date in 2020.
However, Mr Doak appears unfazed by this, telling us: "The market has fallen this year, and our share is still strong."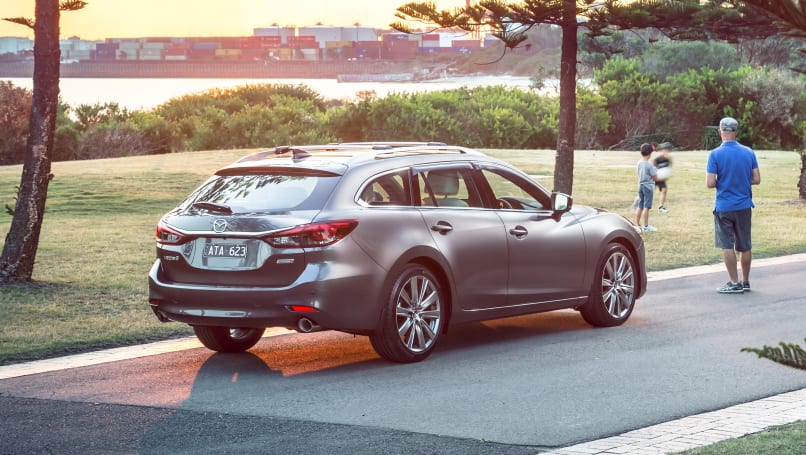 Mazda says the wagon helps set the 6 apart from the mid-size crowd.
"I don't think we're changing that. What we're seeing is the natural product cycle. We're adding new products. Over the years we've been very reliant on Mazda3, but now we're shifting more towards SUVs. We're comfortable with where our pricing is," he said.
Article Source: Cars Guide Magazine
August 2, 2020 9:01 am