Jeep's hotly anticipated Gladiator ute will arrive in Australian showrooms in May, but its $75,450 before on-road costs starting price puts it up against some of the best dual-cab utes on the market.
Can the Gladiator hold its own against the likes of the $76,490 Ford Ranger Raptor and $72,790 VW Amarok Ultimate, or even the cheaper $65,490 automatic Nissan Navara N-Trek Warrior and $64,490 Toyota HiLux Rugged X?
Well for starters, the Gladiator starts off as one of the most expensive in the dual-cab ute segment, excluding full-sized trucks such as the Ram 1500 and soon-to-be-launched Chevrolet Silverado 1500.
The aforementioned starting price is for the comfort-orientated Gladiator Overland, but the more off-road focused Rubicon can be had for $76,450 – some $11,000 more than their platform-sharing Wrangler SUV equivalents.
To be fair, the Gladiator is fully loaded though, with equipment such as heated leather seats, heated steering wheel, adaptive cruise control and forward collision alert for the Overland, and Fox shocks, off-road tyres, and front and rear locking differentials in the Rubicon.
The Gladiator also has one party-piece that no other dual-cab ute can lay claim – a removable roof and doors to make it the world's only open-air ute.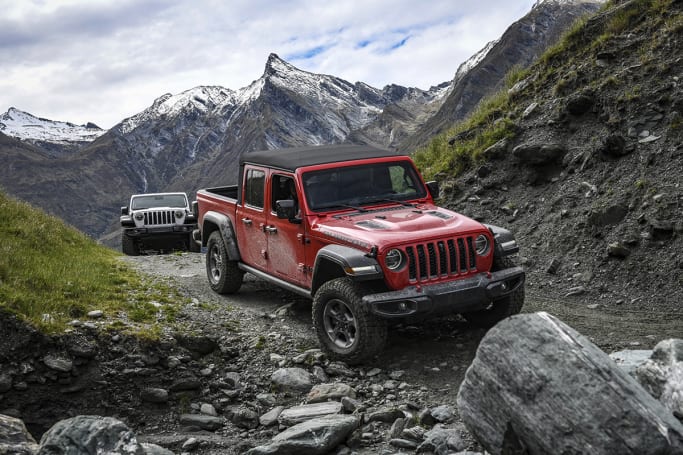 All of the Gladiator's aforementioned rivals are also loaded to the hilt with tech, safety and comfort equipment, but only the Ranger Raptor and Navara N-Trek Warrior offer up dedicated off-road enhancements like unique suspension and all-terrain tyres.
Measuring 5537mm long, 1875mm wide, up to 1933mm tall and with a 3487mm wheelbase, the Gladiator is about lineball with its rivals in size, but crucially, the Jeep is fitted with a petrol engine whereas its competitors have all gone for turbo diesels.
Under the bonnet of the Gladiator sits a 209kW/347Nm 3.6-litre V6, which sends drive to all four wheels through an eight-speed automatic transmission.
While the Jeep wins out in power, it falls short significantly in torque compared to the 157kW/500Nm Ford Ranger Raptor, 140kW/450Nm Nissan Navara N-Trek Warrior, 190kW/580Nm VW Amarok V6 and even the 130kW/450Nm Toyota HiLux Rugged X.
As a result, the payload rating of the Gladiator in Australia is only 620kg, significantly down from the next-best 724kg offered in the Navara.
Towing looks to also be a problem in the Gladiator, with the Jeep ute able to handle just 2721kg unlike the Nissan, Volkswagen and Toyota that all boast 3500kg of braked towing capacity. Of note, the Ford Ranger Raptor can only handle 2500kg.
We'll have to wait until the Gladiator hits the market in May before putting it head-to-head against its rivals, but from the spec sheet, Jeep's latest ute has the equipment – if not the grunt – to take it to the leading dual cabs in Australia.
Article Source: Cars Guide Magazine
March 6, 2020 9:02 am