Ford is completing the development of its all-new, S650 Mustang, the eagerly-awaited replacement for the world's best-selling sports car, with production scheduled to commence in 2022 for the 2023 model year.
Hotly rumoured to be based on either an evolution of the existing model's D2C platform, or Ford's CD6 architecture that underpins the Toyota Kluger-rivalling 2020 Ford Explorer and closely-related Lincoln Aviator SUVs, the seventh-generation model will most likely gain a slightly longer and wider footprint, along with a bigger body, for more interior space and greater flexibility.
We also hear that there will be a massive leap forward in the design and perceived material quality of the cabin, addressing one of the biggest criticisms levelled at the existing S550 model since it was released way back in 2014. Fun fact: the original interior was the work of a team based at Ford Australia in Melbourne.
The next Mustang is earmarked for an eight-year run, matching today's model, with a comprehensive facelift said to be in the pipeline for the 2026 model year.
The switch from the current Mustang's unique platform (an anomaly given the brand's famous 'One Ford' mantra of streamlined global architectures, conceived in 2007 during former CEO Alan Mullaly's tenure) to CD6 also bodes well for a right-hand-drive (RHD) version again, despite an Australian media outlet speculating otherwise recently.
One Ford insider pointed out that the company has not stated anything about CD6 being left-hand-drive only, while there are other, still-secret models under development on that architecture that are most-likely slated for RHD engineering as the decade wears on, further boosting the business case for RHD Mustang beyond the current generation.
Additionally, Ford Australia's investment in Mustang supercar series, as well as the Mustang brand in general over the last few years is further evidence that RHD and Australia will remain in the loop for the S650.
One report describes CD6 like a set of building blocks – including the engine bay, suspension modules, axle-to-firewall structures and dash-height components – that are interchangeable mix-'n-match-style with varying body, powertrain, electrical hardware and interior items, to create a range of differently shaped and sized vehicles.
Note these will include as yet unseen transverse (for front-wheel and all-wheel drive) as well as longitudinal (for rear-wheel drive as well as AWD) configurations.
The key here is flexibility.
Powertrains will most probably include four-cylinder turbo-petrol engines akin to the 2.3-litre EcoBoost unit found in today's Mustang. V6s in petrol, petrol-electric hybrid and plug-in hybrid guises may see the light of day in some markets, while V8s in regular and hybrid set-ups for carbon emissions-cognoscente Europe are also speculated. This also points to the future Mustang going AWD to help tame substantial power and torque outputs. It's believed a six-speed manual gearbox will return, while the auto's will be 10-speed items all round.
Interestingly, some styling cues aside, Ford's other Mustang – the Mach-E EV SUV out in some parts of the world later this year, though sadly not for Australia – has nothing to do with the current or future Pony car, and is instead an EV derivation of the latest Focus/Escape's C2 platform known as GE1.
However, it points to a family of Mustangs as a sub-brand within Ford, for vehicles that are iconic, for enthusiasts, or in some way different from the more humdrum products the company makes.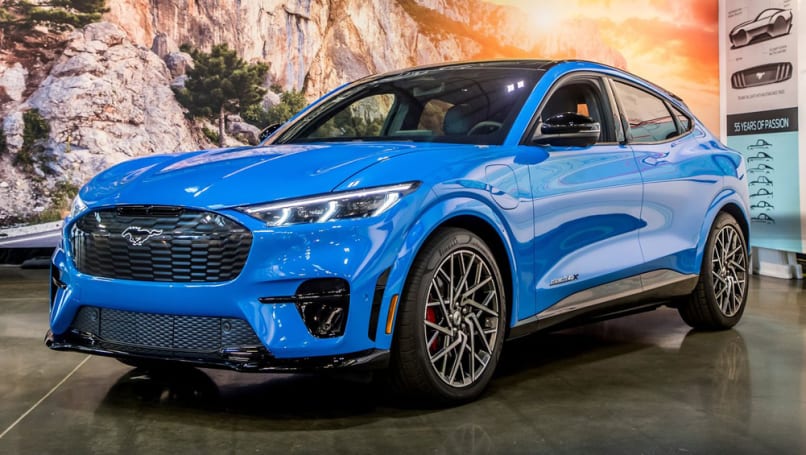 As the decade progresses, these may include a family of sports and performance-focused SUVs, crossovers and perhaps even the long-rumoured Kia Stinger GT-style four-door sports sedan. A pipe dream perhaps, but with the future of the Mustang's traditional nemeses, the Chevrolet Camaro and Dodge Challenger, in doubt, Ford will be in the hot-seat to satisfy American muscle car fans globally.
Whichever way the 2023 Mustang shapes up, one thing is for certain, as the world's best-selling sports car for the last five years running, Ford is keen to exploit one of its greatest assets.
Article Source: Cars Guide Magazine
August 30, 2020 9:01 am