It's no secret that Australians love both performance cars and SUVs – so naturally we like performance SUVs.
The likes of the Audi SQ5, BMW X5 M and Mercedes-AMG GLA45 have become increasingly popular choices in the past decade, but now it looks like mainstream brands are getting in on the action.
While the premium brands have dominated the market until, more affordable performance SUVs are either here already or on the way.
And while some of these models have yet to be officially confirmed for Australia, those looking for a high-riding performance car should have plenty of options before the end of 2021.
Here's a list of not only what you can expect, but a couple of obvious options we'd like to see car companies add to Australian showrooms.
Skoda Kodiaq RS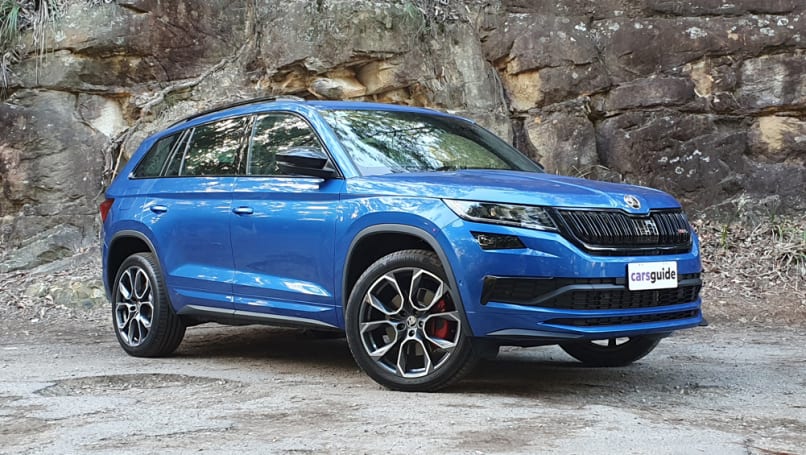 The Czech brand is arguably the first mainstream brand to enter the performance SUV market in Australia with the arrival of its Kodiaq RS earlier this year.
The company has combined its impressive seven-seater with a 2.0-litre twin-turbo diesel making 176kW/500Nm – enough to give it genuinely impressive performance.
It's an understated performance vehicle, but it has all the key attributes you expect – big wheels, subtle body kit changes and sports seats inside.
Mazda CX-5 Turbo
While not really a 'performance' model, the popular family SUV does have a punchy engine in the form of the 2.5-litre turbo petrol making 170kW/420Nm.
While that makes it feel sprightly and it does have all-wheel drive, the lack of any specific chassis upgrades means this feels more warm than hot on the performance scale. However, it could be suitable for families who appreciate a bit more pep than the 140kW 2.5-litre naturally-aspirated version.
Hyundai Kona N, Tucson N & Santa Fe N
Supplied
The South Korean brand looks set to be next to market with a mainstream performance SUV in Australia, when the all-new Kona N arrives in 2021.
As we've reported previously, the Kona N is expected to take the running gear from the upcoming i30 N update – 2.0-litre turbo engine and new eight-speed dual-clutch transmission – and package into the taller body.
But the compact SUV looks set to just be the tip of the iceberg, with both the mid-size Tucson and large Santa Fe also in line for the N Performance treatment.
A new 2.5-litre turbocharged four-cylinder engine is reportedly under development for future N models. It could boast more than 250kW and 400Nm, which should be enough to make both a potential Tucson N and Santa Fe N quick enough to be genuine family performance vehicles.
Ford Puma ST & Endura ST
The Blue Oval brand could have its own rival to the Hyundai Kona N in the form of the upcoming Puma ST. While still not officially confirmed, the hotted-up compact SUV has been spied during development multiple times and is set to be unveiled before the end of 2020.
It's expected to utilise the same hardware as the Fiesta ST, which means a 1.5-litre three-cylinder turbo making 147kW/290Nm as well as a range of handling upgrades.
The other option for Ford already exists – the Edge ST. It's the US version of the Endura, and it has been given the Ford Performance treatment to create a hotter large SUV.
It's powered by a 2.7-litre EcoBoost V6 good for 264kW/515Nm, which unfortunately hasn't been engineered for right-hand drive. But perhaps a hero model would help attract more attention to an otherwise overlooked model in Ford's local line-up.
Volkswagen T-Roc R & Tiguan R
Volkswagen has already revealed two performance SUVs – but neither have been locked in for Australia… yet.
The local division is reportedly keen on both the T-Roc R and Tiguan R for Australian audiences, but are still locking in details to add them to local showrooms.
The T-Roc R is effectively a Golf R-on-stilts with the same 221kW/400Nm 2.0-litre turbo, seven-speed dual-clutch auto and all-wheel drive system. It would both rival (whilst also sitting slightly above with its AWD) the Kona N and Puma ST, making for a theoretically competitive new market.
The Tiguan R could be a rival to the possible Tucson N, and it has already been confirmed by the German brand for overseas markets. It features a punchy 235kW 2.0-litre four-cylinder turbo engine slotted into the mid-size SUV body to create an expanded range of R models that would suit the changing tastes of buyers.
Nissan Juke Nismo RS
We're now getting into the world of 'what if' but this one is highly probable. Nissan gave its previous generation Juke the Nismo treatment – albeit in a limited edition run that scored mixed reviews.
The previous Juke Nismo RS featured a 1.6-litre turbo petrol engine making 160kW/280Nm paired with a six-speed manual and front-wheel drive or the same engine with only 157kW/250Nm with a CVT auto and all-wheel drive.
While there are rumours Nissan is working on a Nismo variant of the all-new Juke, there's no official word. But given the likely arrival of the Hyundai Kona N, Ford Puma ST and VW T-Roc R in the coming years Nissan might not want to miss out on the action.
Article Source: Cars Guide Magazine
August 2, 2020 9:01 am