Hyundai's future dual-cab ute that will fight against the Toyota HiLux and Ford Ranger could well make use of a punchy new six-cylinder diesel engine that has debuted in the Genesis GV80 luxury SUV.
The all-new diesel powertrain could well find itself used in a future dual-cab ute from Hyundai, according to Hyundai Motor's head of research and development, Albert Biermann.
Mr Biermann made mention of the idea of the six-pot in-line engine being used in commercial vehicle applications in the future.
"With this engine we can have so many applications. As you know, we make commercial vehicles and so on, so this engine will be out there for quite some time. You don't need to worry about that engine," said Mr Biermann.
He then seemingly stepped back from that sort of commitment, stating that "we have not finally decided yet" if the engine will transcend brand boundaries in the Hyundai family.
It sounds as though it certainly will, though, with Hyundai plotting a full-scale onslaught in the commercial vehicle space globally. There will be a dual-cab ute from the brand, and we'd bet this engine – and possibly the new platform the GV80 sits upon – will form the basis for the Hyundai ute.
The newly developed straight-six-cylinder turbo-diesel engine used in the GV80 has the choice of rear- or all-wheel drive, thanks to the new architecture that underpins it, and it makes use of an in-house developed eight-speed automatic transmission.
It is capable of a hefty 205kW of power and 588Nm of torque, according to specifications from Genesis – outputs large enough to hassle the likes of the VW Amarok V6 (200kW/580Nm) and Mercedes-Benz X-Class V6 (190kW/550Nm).
Mr Biermann said the decision to go with a straight six over a V6 layout was an easy one.
"It makes the smoothest power. It's very smooth. The vibrations are less," he said. "This new platform was already considered with that engine."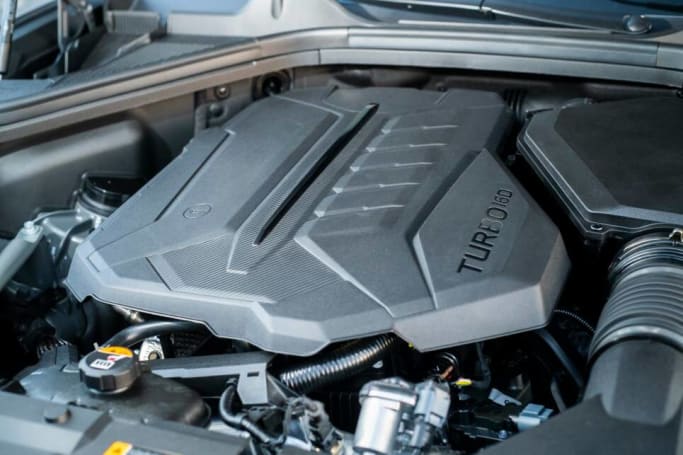 A turbo-diesel inline six-cylinder engine could be used in the upcoming Hyundai ute? You bet.
The platform will also be capable of utilising hybrid powertrain components, Mr Biermann suggested, so we could also see a petrol-hybrid or diesel-hybrid ute when it eventually comes to fruition.
As CarsGuide has previously reported, "work has begun" on the ute from Hyundai, which is expected to arrive in Australia in 2023.
It is possible that the Hyundai ute could also make use of petrol engines that will power the GV80 luxury SUV, including a 2.5-litre turbocharged four-cylinder engine producing up to 226kW, or a 3.5-litre twin-turbo V6 with 283kW/529Nm.
The latter might even wear a Hyundai N badge – meaning it could well take the fight to the future Ford Ranger Raptor V8.
Article Source: Cars Guide Magazine
January 16, 2020 9:03 am